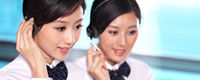 Name: Ms. Lynn
Mobile: +86-13724097955
E-mail: info@itech-aesthetics.com
Add: Room 2703,Huangpu East Road No.5, Huangpu District,Guangzhou,China,Zip Code:510799
Skype: k88v88
QQ: 2648455282







Product name : Pneumatic Shockwave Therapy For Achilles Tendonitis With 7 Bar/SW13

Product No. : SW13

Name/Model : Pneumatic Shockwave Therapy For Achilles Tendonitis With 7 Bar/SW13

Technology : Pneumatic Shockwave Therapy

Power : 350W

Handpiece : 1 Handpiece With 5 Tips

GW : Wooden case

Packing : 23KG(device only)

Delivery : By DHL/UPS/TNT/EMS/Fedex/Air/Sea

MOQ : 1 PCS

Warranty : Host Machine for 1 year,handles for 2.5 million shots

Certificate : CE
Details:
Pneumatic Shockwave Therapy For Achilles Tendonitis With 7 Bar/SW13

Shockwave Therapy
---
Shockwave therapy is a multidisciplinary device used in orthopaedics, physiotherapy, sports medicine, urology and veterinary medicine. Its main assets are fast pain relief and mobility restoration. Together with being a non-surgical therapy with no need for painkillers makes it an ideal therapy to speed up recovery and cure various indications causing acute or chronic pain

Mechanism of Action
---
Shockwave is an acoustic wave which carries high energy to painful spots and myoskeletal tissues with subacute,subchronic and chronic conditions. The energy promotes regeneration and reparative processes of the bones, tendons and other soft tissues. Shockwaves are characterized by jump change in pressure, high amplitude and non-periodicity. The kinetic energy of the projectile, created by compressed air, is transferred to the transmitter at the end of the applicator and further into the tissue

Medical Effects
---
New Blood Vessel Formation
Reversal of Chronic Inflammation
Stimulation of Collagen Production
Dissolution of Calcified Fibroblasts
Dispersion of Pain Mediator
Release of Trigger Points

Indications
---
Jumper's Knee
Painful Shoulder
Tennis Elbow
Heel Spur
Insertional Pain
Chronic Tendinopathy
Medial Tibial Stress Syndrome
Calcifications
Hip Pain

Therapy Sequence
---
Shockwave therapy is a non-invasive treatment. The application is simple and easy. Initiate therapy in 3 steps:
1.Location of the area to be treated (The area to be treated is located using palpation in order to deliver the therapy precisely)
2.Gel application (Sufficient amount of gel is applied to the area located in step 1. Use of gel is necessary to transfer the acoustic waves efficiently and smoothly)
3.Therapy initiation (The shockwave applicator is slightly pushed against the area to be treated and the start button is pressed)

FAQ
---
Will Shockwave therapy help me?
Most patients with chronic pain problems have been through various unsuccessful types of treatments. Up to 80% of the same patients worldwide report that Shockwave therapy has helped them eliminate their problem.
Does the treatment hurt?
There may be a slight feeling of discomfort during the treatment, depending on the level of pain the patient is already experiencing in the area. However, since the treatment lasts only about five minutes, most patients are able to tolerate this discomfort. Additionally, the intensity of the treatment can be adjusted throughout the session.
How many treatments will I need?
The number of treatments varies depending on the indication and tissue response. The effect of the treatment is cumulative, so you will typically need more than one (3–5) treatment. Very often though, you will experience relief right after the first treatment.
How often will I need the treatment?
The therapy session takes about 15 minutes depending on the disorder that is treated. In general, 3-5 sessions are necessary at weekly intervals. The greatest success rate when dealing with problem areas is achieved by following a 12 week treatment program
Will I feel any pain after the treatment?
Most patients will experience an immediate pain relief following the treatment. However, within 24 hours after the treatment, they may experience some soreness in the treated area. This soreness has been reported as tolerable and not limiting.
Are there any restrictions after the treatment?
It is recommended that patients refrain from physical activity, especially one that would involve the treated region, for about 48 hours following each treatment session.
TECHNICALPARAMETERS
---
| | |
| --- | --- |
| Technology | Shock wave |
| Operating mode | Continuous 4/8/16 pulses |
| Power Levels / Energy | 60 to 185 mJ (equivalent to 1-3 bar) |
| Frequencies | 1-16 Hz |
| Suggestion for treatment parts | Exceeds 25 preset treatment suggestion |
| Power | 350W |
| Dimensions | 54X52X45 CM (L/W/H) |
| Weight | 25KG |
| Power supply | AC100V-110V/AC220V-230V,50Hz/60Hz |

PHOTOS

---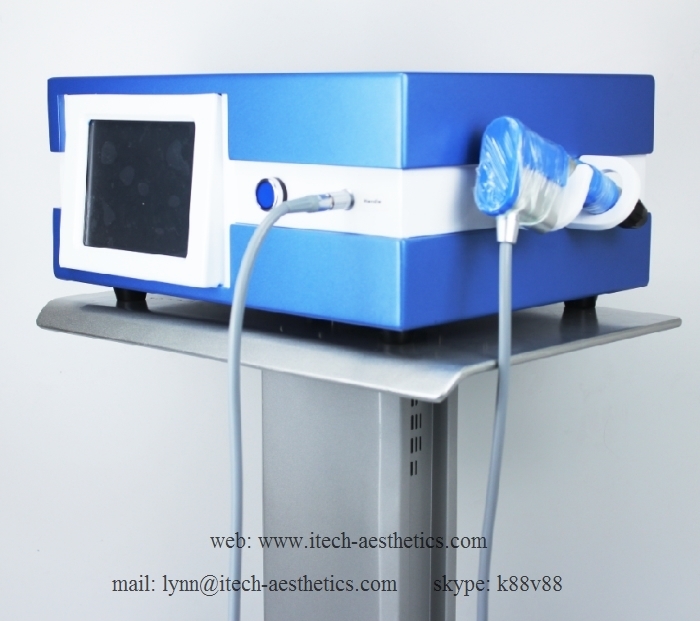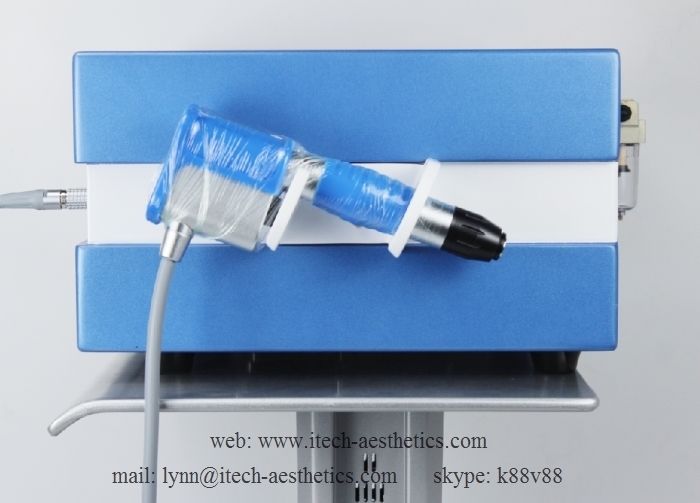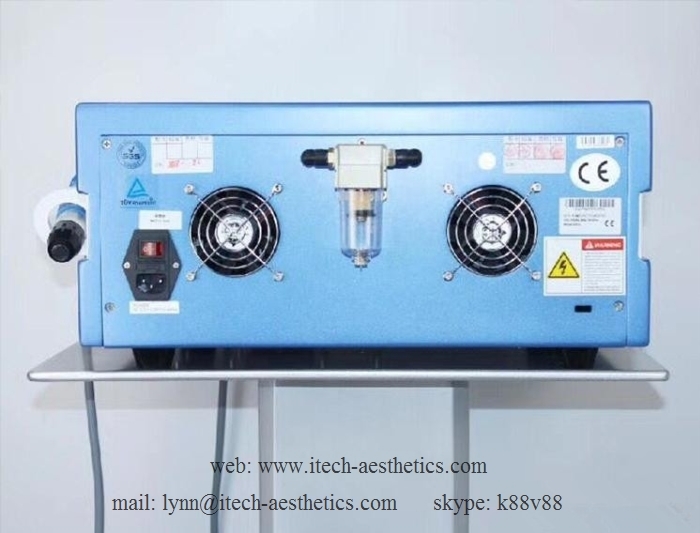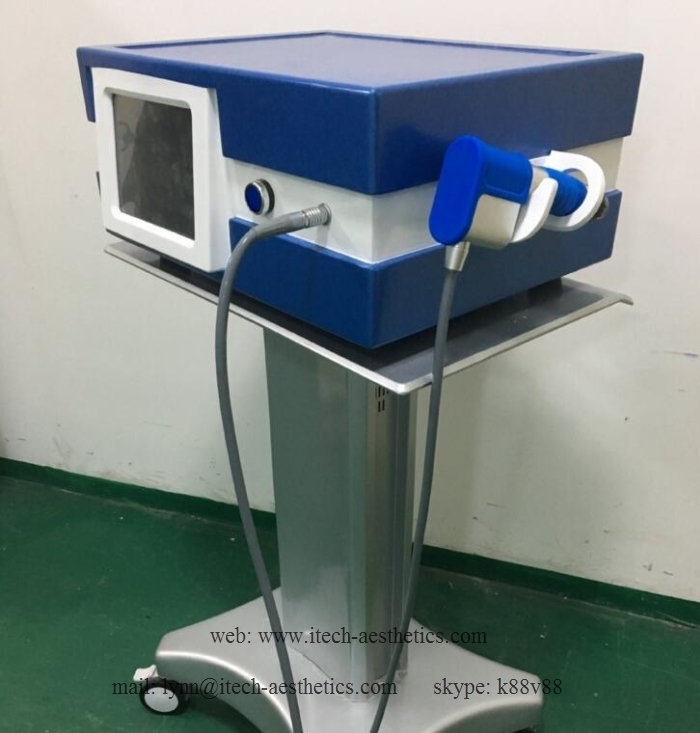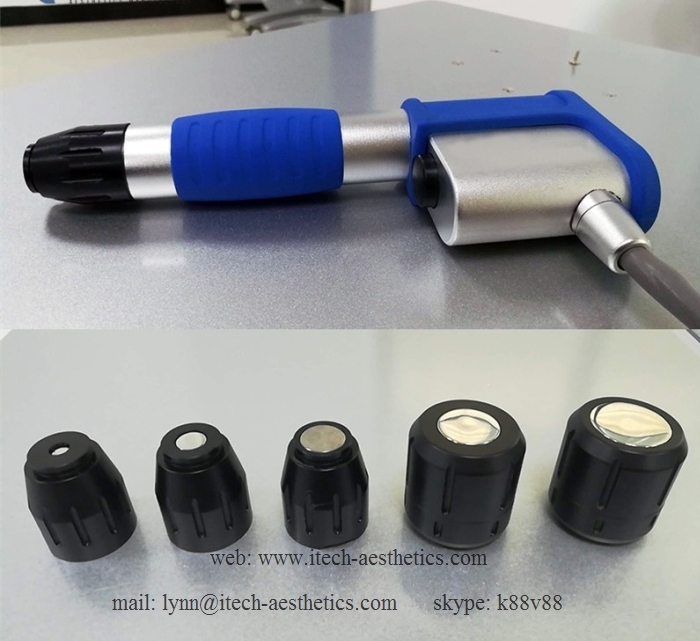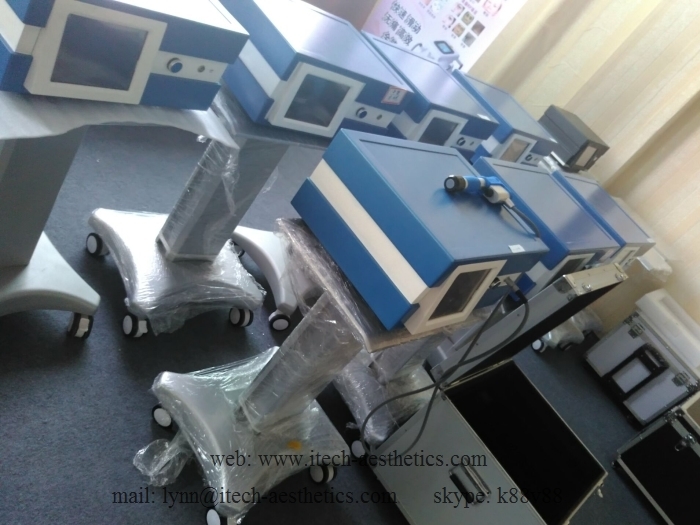 Payment
We accept T/T(Telegraphic Transfer),Western Union,Moneygram
Packaging
There're different packages of our beauty machines:carton box,aluminium alloy and wooden
box. No matter which package,there's cood foam inside of the box to protect the machine
during the shipment.So there's no worry of any damages of the machine.
Delivery
Ship by express(door to door)(dhl.tnt.ups.fedex.ems)
Ship by air express to airport
Ship by sea
Service
1. Do you have any warranty?
Yes, we have. 12 months warranty on host machine is given. 3 months free replacement warranty for handles, treatment heads, and parts.
2. What if the machine breaks in foreign countries?
We just need the operator tell us what phenomenon of the problems. If it is small problem, we can teach and fix the machine immediately. If need parts, we send parts immediately and teach how to change the parts, which is very easy.
3. I have never used such a machine. How can I learn it?
With machine, we will send manual to teach you how to use machine. And we also can online training by skype or phone call.
4. If the machine is returned by customs, what will you do?
We will find why your customs return our machine and find solutions and will send a brand new machine to you immediately. If you cannot receive the machine at all, we will return your money. And machine will come back to us.
5. What courier you often use?
We mostly use DHL which is the best courier and fastest. But we also accept other couriers like UPS, TNT, Fedex, EMS, by air or by sea.
6. Can you put my LOGO on the start screen instead of yours?
Yes. You just need to send us a picture of your logo in high quality. Then we put your logo on start screen of the machine.
7. What is payment terms
We accept all popular payment terms like wire transfer, western union transfer,moneygram, escrow, credit, and cash.
8. What is your delivery time?
We need only 2~5 days according to different machines and different quantity of your orders.
For more questions, pls feel free to contact us.
9. Why should you choose us?
Powerful factory, giving the competitive price and best technology support 12-years' experience in producing beauty machine, strong R&D 1 years-warranty and 8/24 online after-sale service CE Certification, the key for you to legally use and sell the machine Diversity of customized service, strong OEM & ODM capability available.
Contact
Contact Person: Ms Lynn l Sales Manager
Mobile / Whatsapp/Viber: 0086 13724097955
Skype: k88v88
Tel: 0086 2082514086
Fax: 0086 2082514086
Email: lynn@itech-aesthetics.com
itech-aesthetics@foxmail.com