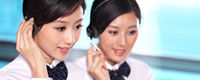 Name: Ms. Lynn
Tel: +86-20-82514086
Fax: +86-20-82514086
Mobile: +86-13724097955
E-mail: info@itech-aesthetics.com
Add: Room 2703,Huangpu East Road No.5, Huangpu District,Guangzhou,China,Zip Code:510799
Skype: k88v88
QQ: 2648455282







Product name : PDT Therapy Oxygen Machine/G882A

Product No. : 2017727161851

Name/Model : PDT Therapy Oxygen MachineG882A

Technology :

Power :

Handpiece :

GW :

Packing :

Delivery :

MOQ :

Warranty :

Certificate :
Details:
How does this oxygen facial machine produce the oxygen?
distributors wanted g882a skin peeling O2 oxygen inject machine adopts the advanced PSA(pressure swing adsorption) technology to remove 78% nitrogen from air by its adsorption by a molecular sieve under normal temperature and leave oxygen available for use.
The oxygen contraction reaches to over 90%. This hyperbaric pure oxygen will be applied to oxygen spray, oxygen infusion, oxygen breath treatment.
Oxygen spray treatment:
Oxygen spray is an anti-aging treatment which uses a stainless spray gun , on which there is a bottle to fill essential fluid.The jet of spray gun is a pin hole of 0.1~0.3mm.

Under powerful pressure, the spray gun spurts the over90% oxygen mixed with essential fluid in high speed. Due to the high speed and small hole effect, the essential fluid will be spurt in very tiny molecule type (5~200μm), which mixed with oxygen molecule, can be effectively penetrated into deep skin and absorbed.

With the effect of oxygen and essential fluid, it accelerates skin cell reproduce, generate and survive, guards against harmful bacteria and disease.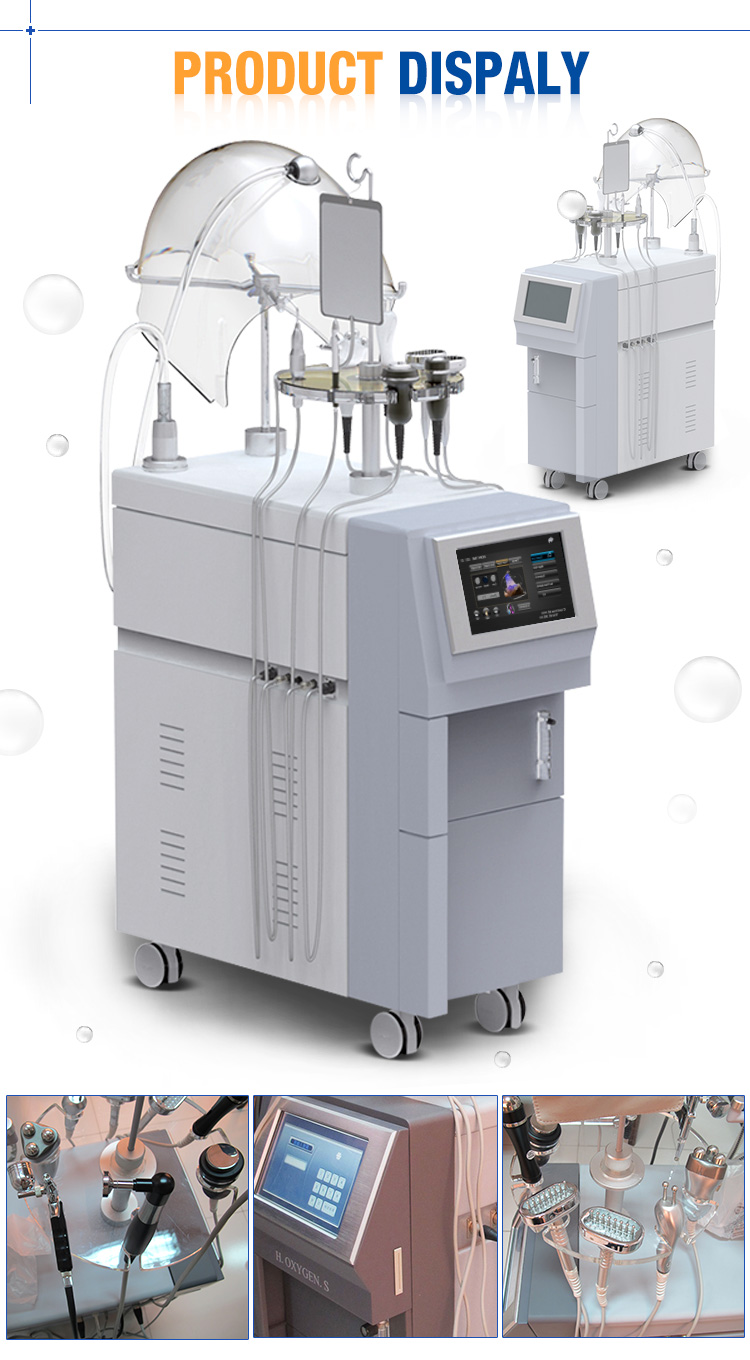 Features of facial injection machine:
1.Generate 96.4% pure oxygen automatically
2.Ozone disinfection system

3.Bioelectricity massage for body

4.Hyperbaric oxygen mask(oxygen inhale+Music therapy+Photon therapy)

5.Oxygen therapy(oxygen spray,oxygen inject)

6.5MHz Multipolar RF

7.Supersonic for facial

8.Bio-photoelectric techniques

9.10 fuctions in 1 machine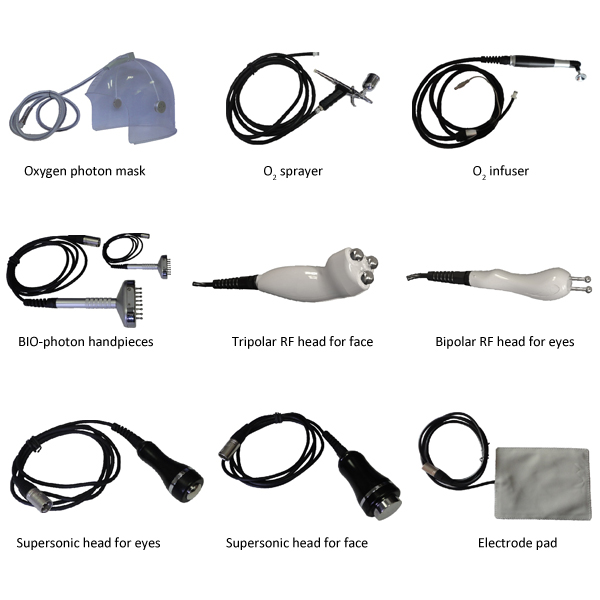 Advantage of facial injection machine:
1. No extra oxygen tanks,generate high purity oxygen automatically
2. Paten technology design of hyperbaric Oxygen light mask, At the same time,music therapy and oxygen phototherapy
3. Using O3 disinfection technology for oxygen mask disinfection
4. The advanced electronic oxygen generation technology
5. The magic's hand technology division RF technology, make the beautician's hands into beauty player
6. Unique technical design crush note oxygen lance, Make the product into skin
7. 5M multipolar RF technology
8. 9 iN 1,multifunctions hyperbaric oxygen
Applications of facial injection machine:

1. Skin rejuvenation, remove facial blemish, tighten large hair pores, deep cleaning, and improve the flexibility and tone of skin.
2. Scar removal; Remove scar caused by laser treatment, burn, surgical etc.
3. Wrinkle removal; Remove fine lines, wrinkles and spider veins.
4. Acne removal; Remove acne, comedones, blackheads and acne scar.
5. Restrain the inflammation.

Specification of facial injection machine:
Voltage:

AC110V/220V 50-60Hz

Power:

450W

Tech:

PSA oxygen contraction tech, oxygen infusion,oxygen spray,

oxygen breathing,patent oxygen mask with LED and music therapy,

Microcurrent with LED light,

magic hand, ultrasonic, RF,heart rate test, touch screen

Oxygen contraction:

Over 90%

Oxygen flow Speed:

10PLM

Oxygen pressure:

0~90KPa

Oxygen type:

O2, O3

Oxygen infusion mode:

1Hz~5Hz

LED light:

Red(635nm) Blue(450nm) 5mWX300

LED light Mode:

P1~P4 Pulse mode, P5 continous mode

LED light intensity:

1(weak)~5(Strong)

Microcurrent intensity:

1(weak)~10(strong)

Ultrasonic frequency:

1MHz

RF frequency:

5MHz

RF Type:

Bipolar RF(Eye) Tripolar(Face)

Bipolar RF intensity:

1(weak)~5(strong)

Tripolar RF intensity:

1(weak)~10(strong)

Magic Hand treatment part:

Body, face, breast

Ultrasonic treatment part:

Eyes(0.5w/cm2~2.5w/cm2)

Face(0.5w/cm2~5.0w/cm2)

Volume:

60cm*57cm*138cm

Fuse:

T5AL250V

Ambient temperature:

5~40 degree

Relative Humidity:

Less than 80%

Atmospheric pressure:

86KPa~106KPa

Package:

Wooden case
Accessories of facial injection machine:
How is about the design of facial injection machine?

The design and the current is fully comply with European electrical safety standards, absolutely safe to human body, the built-in anti-electromagnetic interference devices, can effectively protect against electrical and magnetic interference, maintain the current stability, to ensure that procedures effective and stable.
FAQ:
How does the Jet Peel work?
Each Jet Peel treatment will gently "pressure wash" your skin utilizing water, oxygen and anti-oxidant supplements, delivered at supersonic speed. This gentle cleansing unclogs pores and removes any debris that has naturally built-up in the skin over the years. In addition, each treatment session provides micro-circulation to the treated area. Your skin will appear more vibrant, smooth and youthful.
How many treatments do I need?
Jet Peel treatments are usually performed in a series of sessions. The actual number depends on your skin condition. Jet Clear treatments are usually performed every 14 to 30 days. Therefore maintenance treatments are scheduled as needed. These sessions have proven to be very helpful in maintaining a client's skin clarity and "luster". Your skin will feel amazingly smooth immediately after the first treatment without any downtime.
Can the Jet Peel treat the body?
The treatments are most commonly performed on the face, neck and decollete areas. However, they can be easily be performed on any part of the body that requires smoothing, deep cleansing, and hydration such as the hands, feet, chest, back and elbows.
Why is this treatment Better?
The Jet Peel does not just work on the surface of the skin. Effective cellular growth and repair requires water, oxygen and active ingredient serums to be delivered deep into the skin. Jet clear has a fine jet aerosol spray that penetrates deep below the skin surface. Jet Clear uses no messy, gritty crystals or damaging suction on the skin, Jet clear cleans, peels and infusion to produce excellent skin care results.